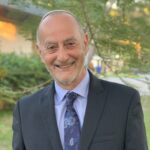 Rabbi Steven Blane began his professional Cantorial career in 1991, at Congregation Beth Israel in Biloxi, MS.
Ordained a Rabbi in June 2001, he continued to serve as Cantor until 2006 at different (consecutive) Conservative and Reform temples around the country. During this time and until 2009, Rabbi Blane was a member of the Cantor's Assembly – an international and highly regarded association of Cantors affiliated with Conservative Judaism. However, he chose to resign after being offered either resignation or expulsion when he began officiating at interfaith weddings.
Between 2006 and 2009, Rabbi Blane served as Rabbi and Spiritual Leader of Congregation Beth Tikvah, a Conservative community in New Milford, NJ.
While he has led services in Lubavitch, Orthodox, Conservative, and Reform he feels most comfortable among the most progressive Jewish movements. It was while serving at Congregation Beth Tikvah that he realized he had a progressive mission, too.
"I was unhappy; I was sad. Yes, I was doing well – I was serving a lovely community and I was making a good salary. But I was not growing: my vision was much larger than I could realize in the Conservative or any particular movement. And so I left the traditional pulpit to journey on my own."
That journey has been extensive and fruitful. It has led to Sim Shalom – an interactive, online and free Jewish synagogue, which – like JSLI – meets the needs of unaffiliated Jews and interfaith couples and espouses the Jewish Universalist philosophy. Find out more about Sim Shalom. It has also led, of course, to JSLI's Rabbinical School and Cantorial program.
Blane believes there is a great need to train and prepare liberal rabbis to meet the needs of millions of unaffiliated Jews and interfaith couples and their families. The modern liberal Jewish paradigm is one in which traditional Jewish observance and regular synagogue attendance or synagogue membership are simply not a reality. And Covid has forever altered the paradigm of in-person worship. Yet, respect for life cycles and Jewish Holiday observance is still of deep significance. So for those qualified to attend, the JSLI program is a concentrated, focused, and highly practical year of study. Almost 200 Rabbis and Cantors have been ordained through the program.
Music has always played a huge part in Rabbi Blane's life – both inside and outside of the synagogue.
He majored in Voice and obtained a B.A. in Music Education from Jersey City University. Following college, he performed as a singer/actor off and on Broadway, most notably in the show "Strider" in 1978-1979. He was a film extra in "The Chosen" (don't blink) and wrote an Off-Off-Broadway musical, which he produced in 1981. In 1986 he co-founded Blane & DeRosa Productions, an audiobook and children's audio production company. He produced hundreds of audio recordings for major publishers.
Rabbi Blane is a Singer-Songwriter and passionately enjoys writing songs and performing them solo or with other musicians. He plays guitar, piano, and ukelele.
For more information on Rabbi Blane visit rabbi.net