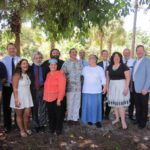 When you enroll at JSLI, you become part of our community- now more than one hundred and thirty nine Rabbis and two Cantors strong.
We are a vibrant, forward thinking group of Jewish professionals who are always available to help one another through our private Facebook Page and our online continuing education Lunch and Learn's. We offer an optimum environment for study for the modern Jewish Rabbinate.
During our fully participatory Online Video Conferences, we will explore all of the subject areas below. In conjunction with our video conferences, all of our course materials and assignments are available via our LMS (Learning Management System).
Courses (which include readings from our JSLI required texts, document downloads and internet resources) are available to students one week before actual online classes so they may prepare in depth for each subject.
Students write weekly sermons (Divrey Torah) on the Torah portion of the week and participate in online lectures by our many Rabbis and participate in ensuing discussions.
A full curriculum will be made available to students accepted into JSLI.
Torah
Weekly Torah Study
The Jewish Prophets
The Jewish Kings
Pirkey Avot- The Ethics of the Fathers
Jewish Angels
History
Introductory Mishna, Talmud and Midrash
Medieval Jewish thinkers
Jewish Mysticism – Kabbalah
The Holocaust and Forgiveness
Rabbinics
Two Units of Pastoral Counseling
Shabbat
Kashrut
Brit Milah/Brit Shalom
Eschatology- Life After Death
Jewish Conversion
Orthodox, Conservative, Reform, Reconstructionist and Renewal Movements, and of course, Jewish Universalism.
Liturgy and Ritual
Prayer liturgy and prayer melodies
Weekdays
Shabbat
Festivals
High Holidays
Duchenen- The Blessings for the Priests
Professional Development
Officiating at Jewish, Interfaith and Same-Sex Weddings
Officiating Bar and Bat Mitzvahs
Baby Naming Ceremonies
Brit Shalom Ceremonies
Funerals
Preparing and delivering sermons
Please bear in mind that these are only a few examples of the subject areas our Rabbinical School will cover.