Rabbi Barry Altmark has been admitted to a program that will certify him as Chaplain with the Baptist Health System in Alabama. According to Rabbi Altmark, JSLI's accreditation is deemed equal to HUC, JTS and Aleph. Mazal Tov to our colleague!
April 20, 2014
Here is some of the exciting news we've received from our newly ordained Rabbis! Rabbi Judy Caplan Ginsburgh "Our local newspaper ran a nice feature article on my ordination. Thought I would share:" Click Here to View the Article. Rabbi Jenn Weinstein Rabbi Jenn Weinstein was formally installed to her Congregation, Simchat HaLev…
April 16, 2014
Meet New York City's Fashion Rabbi Tobi Rubinstein Schneier is wearing an animal-print hamsa necklace she designed herself to ward off the evil eye, and according to her, it's working just fine. Two years after her high-profile rabbi husband, Marc Schneier, was caught in a torrid cheating scandal that became unrelenting tabloid fodder, she…
March 11, 2014
Class # 6 was ordained in January 2014 in Delray Beach, FL. 17 students gathered from across the country (and from Israel) to be ordained as Rabbis.
January 29, 2014
Rabbi Jenn Weinstein Congregation Simchat HaLev Installs New Rabbi On March 2nd, Rabbi Jenn Weinstein was installed in front of 250 congregants of Congregation Simchat HaLev of Syosset. The installation ceremony, led by Rabbi Jay Weinstein, her father, was held at Long Island University. Nassau County Legislator Judy Jacobs and Councilwoman Rebecca Alesia honored…
January 29, 2014
FORT HAMILTON, NY New York Army National Guard Chaplain Candidate 1LT (Rabbi) Mark Getman assisted the Ft Hamilton Army Garrison, Chaplain (Maj) Bowman at Fort Hamilton's Hanukkah Candle lighting ceremony which was held on the last night of Hanukkah on December 4 2013. The ceremony was attended by Ft Hamilton Service members, the garrison…
December 12, 2013
Online Rabbinical School to Ordain Sixth Class of Rabbis JSLI will ordain it's sixth class of Rabbis in Delray Beach, Florida this coming January. New York, NY (PRWEB) December 12, 2013 On January 12, 2014, JSLI will ordain their Sixth Class of Rabbis. Seventeen students from around the world including Australia and…
December 11, 2013
Rabbi Judy Ginsburgh Click Here to see the article about Rabbi Judy. Rabbi Norman Maybloom: I've been acting as a pro bono Gabbai for the Clearbrook Jewish Congregation which includes leading the Congregation in Schacharit services on Rosh Hashanna and Yom Kippur. This also included doing the Torah readings for the 3 days and…
November 13, 2013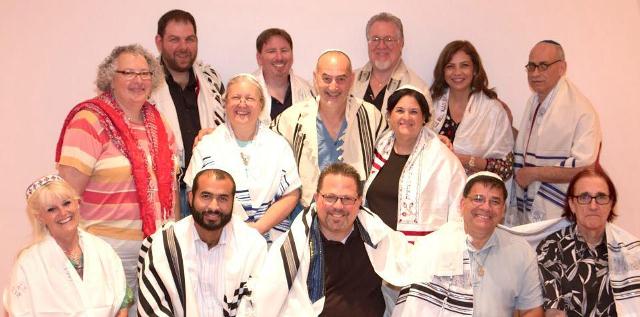 JSLI class # 3 at their ordination ceremony in NYC! Traditional denominations of Judaism exclude more than 50 percent of Jews who are unaffiliated or in interfaith marriages. New York, NY (PRWEB) June 10, 2013 – The Jewish Spiritual Leaders Institute (JSLI), led by Rabbi Steven Blane, will ordain its 5th rabbinical class at…
July 9, 2013