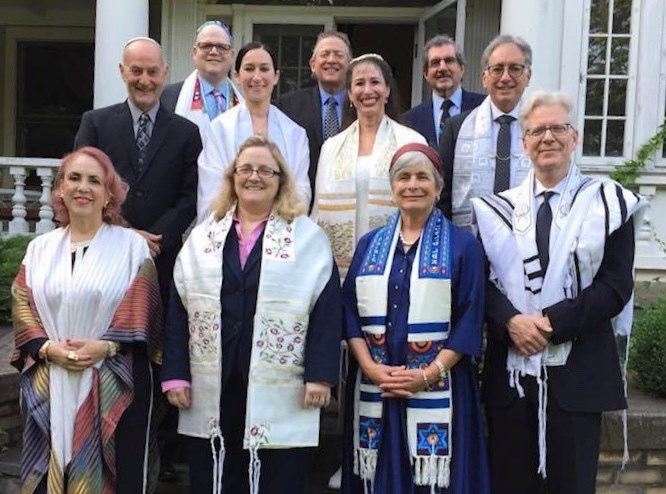 Jewish Spiritual Leaders' Institute Ordains 17th Class of Rabbis and Cantors
Sim Shalom Online Synagogue grants ordination to eight students of its professional Rabbinic and Cantorial program, the Jewish Spiritual Leaders' Institute. As part of a deeply spiritual ordination and shabbaton weekend in Stony Point, New York Rabbi Steve Blane and the Bet Din welcomed the new Rabbis and Cantors from across the US and Canada to the family of clergy trained by the Jewish Spiritual Leaders' Institute now totalling 150+.
This new class hails from New York City, Massachusetts, California, Florida, Canada and its first Rabbi from Central America! JSLI is Rabbi Steven Blane's pragmatic response to the training of modern clergy and is the only fully online rabbinic program for Jewish professionals making it accessible for students from anywhere there is internet.
This newest 17th Class reflects the diversity and richness of the Jewish Spiritual Leaders' Institute and includes a dentist, Jewish educators, a pulpit Rabbi, and a hospital chaplain. JSLI provides opportunity to those like this dynamic group to fulfill lifelong dreams. The six Rabbinic candidates brought their wealth of life experience to the program and along with Rabbi Blane and other teachers explored contemporary topics facing the modern Jew – many of whom are unaffiliated and disconnected from Judaism.
"We have a mandate to help the unaffiliated connect to their Jewish heritage and welcome them and interfaith partners with a Jewish Universalist vision for the future," notes Blane. "The new group of Rabbis are excited to fulfill this mandate and pursue their individual paths to creating Tikun Olam, "repairing the world."
This cohort became exceptionally close throughout the course of study meeting online once a week and many travelled early to the New York area for some pre-ordination activities and gatherings.