Updates From Our Rabbis
Rabbi Jenn Weinstein
Congregation Simchat HaLev Installs New Rabbi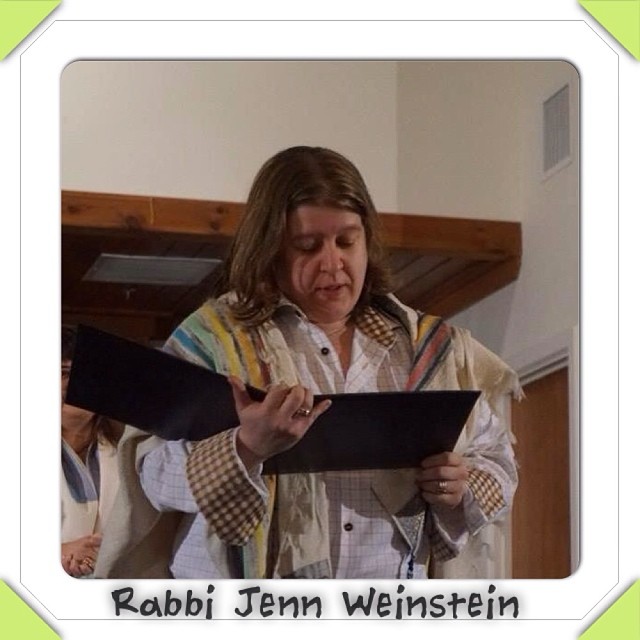 On March 2nd, Rabbi Jenn Weinstein was installed in front of 250 congregants of Congregation Simchat HaLev of Syosset. The installation ceremony, led by Rabbi Jay Weinstein, her father, was held at Long Island University. Nassau County Legislator Judy Jacobs and Councilwoman Rebecca Alesia honored Rabbi Jenn with proclamations.
Congregants and family members, along with past and present Hebrew school students, spoke of the wonderful person Rabbi Jenn is and what a wonderful rabbi she will be. A theme for the day, "Find a rabbi, find a friend" were words that were referred to throughout the celebration. When asked about his daughter sharing the spiritual leadership with him and being installed, Rabbi Jay said, "for the last ten years, I have watched her grow, I have witnessed her serving our congregation in many roles. The heavens are beaming and the earth is shouting with joy and excitement, for today we come together to welcome her "officially" as our rabbi. Rabbi Jenn is a gift and a blessing from Gd. I am proud to call Rabbi Jenn my colleague and to share the rabbinic leadership with her."
Rabbi Jenn graduated from the Jewish Spiritual Leaders Institute's Rabbinical Program and was ordained January 4, 2014. She said, "So often, and by many, I was told I should be a psychologist, a therapist, a doctor, a teacher, a whole array of professions that had a common theme of attentive listening, advice giving, and outreach. As a Rabbi it is my passion to advocate for all people and to work toward the ultimate goal of inclusion. I come from a background of exposure. Exposure to differences and acceptance of all has helped mold my perception of how people should be treated. My hope for the future is to broaden and expand my outreach both in our community and in the greater world."
Everyone at the installation ceremony and reception certainly felt a great sense of pride and joy. Thank you to all the committee volunteers, corporate sponsors and congregational donors who helped make this day a success. Congregation Simchat HaLev is a welcoming and inclusive synagogue providing Judaism that is accessible, engaging, GD centered and spiritually based. The synagogue is located on Split Rock Road in Syosset.
Rabbi Neumiro Dasilva 
is playing music on the High Holy Days in Bloomington, Indiana and has recently married a couple there. Mazel Tov! Neumiro.
Rabbi James Michaelis
As for me , I am employed by Temple Beth El in Port Jervis.. I lead services two Shabosim a month. As well as presiding at a Bris with a mohel. I will be conducting the Seder and other duties.
Rabbi Sandy Zisser

The Westchester Board of Rabbis is comprised of rabbis who live and / or Orkney in Westchester County. The Board is a diverse group representing various streams of Judaism and serving in many different capacities.
I'm proud to be accepted in to this group!
Sandy
Rabbi Sandy Zisser
www.unaffiliatedjudaism.net
Rabbi Ori Clare
Hi Rabbi Blane!
· I have been blogging on Jewish topics for a national religious news service as well as on a blog form my own private audience.
· I have begun a hospital chaplaincy training program at one of the (Catholic) hospital/nursing home organizations in Hartford, bringing the rabbinic perspective to serving the needs of their patients and residents (yes, a good number of whom are Jewish – but my training and work is not limited to the Jewish population).
· I am seeking life-cycle officiating opportunities oriented towards end-of-life events – 1st unveiling scheduled for this Sunday.
B'Shalom
Rabbi Gerald Schechter

What have I been doing since ordination…Leading Slechot services, writing five sermons, preparing all Torah portions, and Haftorahs,Leading HH services and blowing Shofar, and…My congregaton seems to have a new outlook since "Smicha" and they call or stop meregularly  

Rabbi Galit Levy-Slater
My congregation threw me a huge celebration ("Ordination Celebration") and installation ceremony the week I got back. We had nearly 80 people at services and it was amazing.
As far as the future is concerned, our membership is up – at least from a month ago.  I'm happy doing what I am doing, and I am grateful for the friendships I made in JSLI and our network of rabbinics.
Most of all I thank all of you – Rabbi Steve, Carol, Megan, Sammy and Franklin!
Rabbi Perlman is a full-time spiritual leader for Temple Am David in Warwich, RI. He has served as a spiritual leader there for the past 12 years! After being ordained by JSLI, Rabbi Perlman's congregation has been overwhelmingly excited and has expressed their happiness by addressing Richard as "Rabbi."
Rabbi Eric Morgenstern
Since ordination, I have taken on more duties at my Synagogue as well as officiating a wedding and several b'not mitzvah.  Being an active part of a vibrant community is great for me and I embrace the opportunity. Having Semicha has opened doors for me and I hope to continue with things just the way they are today.
I can't thank you all for making my dream come true.  I hope to be a part of the JSLI/Sim Shalom community for a very long time.