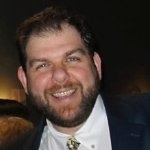 Rabbi Sandy Zisser
Rabbi Sandy Zisser has been a professional educator for the past twenty years, and involved in Jewish education for much of his life. Sandy received his B.A. from SUNY Albany with a dual major in American History and Judaic Studies. He then received a Masters in Special Education from the Bank Street College of Education. Sandy taught in schools in New York City until he joined the faculty at The Solomon Schechter School of Westchester in 1994 where he works in the Center for Academic Support.
As a Jewish educator, Sandy began his work informally as a counselor at Ramah Nyack, and then more formally working at many Hebrew Schools over the years. As an administrator, Sandy began as the principal of the Hebrew High School at Beth El Synagogue in New Rochelle, NY, Religious School Director at Greenburgh Hebrew Center in Dobbs Ferry, NY, and is currently the Director of Education at Congregation Knesses Teferret Israel in Port Chester, NY.
Sandy strongly believes in educating the whole person, with opportunities for adults and children to learn, formally and informally, together as families, or independently by age groups. Sandy loves teaching all ages from the youngest child to the oldest adult. Rabbi Zisser was ordained with our third JSLI class. He worked with Rabbi Blane on the creation of our online Siddur, Siddur Lev V'nefesh available at the ITunes store, and is involved in creating curriculum for our Rabbinic school.
Sandy lives in White Plains, NY with his wife, Ann and his two children Solomon and Rena.
Rabbi Sandy teaches a course on the Great Rabbis.