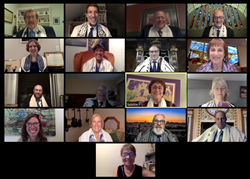 Jewish Spiritual Leaders Institute Convenes Holy Ordination Online 
NEW YORK (PRWEB) JUNE 29, 2020
Rabbi Steve Blane of Sim Shalom Jewish Universalist online synagogue and a Bet Din convened a holy ordination and Shabbaton on the June 19th weekend online. Rabbi Blane is the Dean and Founder of the Jewish Spiritual Leaders' Institute that was created to train clergy to meet the needs of modern Jews. The group of twelve ordained this past weekend joined the 162 Rabbis and Cantors in the US, Canada, Great Britain, Japan and Israel. JSLI alumni are serving in pulpits, as Chaplains, educators and performing life cycle events.
While the ordination was moved online due to COVID-19 it remained a truly moving and spiritual event and allowed the friends and family of the candidates to attend an online gathering. A few words used to describe the weekend by the newly ordained Rabbis and Cantors were "love, family, honored, connection, appreciation, blessed, holy, sweet and moving."
ABOUT JSLI AND SIM SHALOM
Sim Shalom is an interactive online Jewish Universalist synagogue which is liberal in thought and traditional in liturgy. Created in 2009 by Rabbi Steven Blane on Manhattan's Upper West Side, Sim Shalom offers a means of connecting the unconnected. Rabbi Blane leads accessible and short Shabbat services every Friday night using a virtual interface and additionally Sim Shalom provides online education programs, Jazz concerts, conversion and life-cycle ceremonies along with weeknight services at 7:00PM EST led by Rabbis and students of this online community.
Rabbi Blane is also the founder and director of the Jewish Spiritual Leader's Institute,
https://www.jsli.net, the online professional rabbinical program and the Union of Jewish Universalists Communities, http://www.ujuc.org.
Sim Shalom, a non profit 501 © (3) tax-exempt organization, nurtures a Jewish connection through its mission of innovative services, creative education and dynamic outreach to the global community. For more information visit http://www.simshalom.com or call 201-338-0165.
You can find the Press Release here.