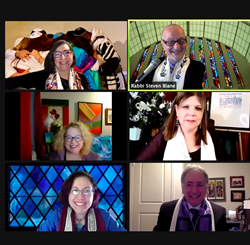 Newest Jewish Spiritual Leaders' Institute Class Ordained
NEW YORK (PRWEB) JANUARY 05, 2021
Rabbi Steve Blane of Sim Shalom Jewish Universalist Online synagogue and a Bet Din convened a holy ordination and Shabbaton on January 19. Rabbi Blane and the Bet Din composed of a Rabbi from Canada and another from Idaho ordained three candidates that hailed from California and Calgary, Canada. The group gelled over the course of the year's study and joined the 162 Rabbis and Cantors who studied with Jewish Spiritual Leaders' Institute from the US, Canada, Great Britain, Japan and Israel. JSLI alumni are serving in pulpits, as Chaplains, educators and performing life cycle events.
The ordination was moved online due to COVID-19. Despite the pandemic it was a truly moving and spiritual event and allowed the friends and family of the candidates to attend an online gathering from all over the country.
Jewish Spiritual Leaders' Institute begins its 21st Class on January 6th. The newest cohort of eight students will attend weekly sessions, offer a presentation to the school and alumni, write a research paper and lead services for the school and Rabbi Blane.
"I am very grateful for the experience of studying with JSLI. The collegial atmosphere, the skillful lessons in the practical aspects of rabbinics and the warm, nurturing nature of JSLI's instruction made for an experience that I feel prepared me well for spiritual leadership. But perhaps more importantly, I feel that what I learned, from Rabbi Blane as well as my fellow students, improved me spiritually as a Jew." Rabbi Dario Hunter